A 10's sjsilver Member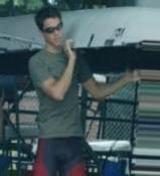 LOCAL SINGLE OF YOUR DREAM IS ONLINE!
I'm Fit as a Fiddle
I'm looking for someone who's not afraid to have some fun, in and outside of the sheets. I range from the social awkward penguin to the party guy you'll never forget. Really it can be hit or miss. I love to be lazy and watch movies and spend days indoors but I also place a high value an active life style. I love to run, bike, row, and do just about anything to stay in shape. I'm generally very open to new things.