A 10's Raleigh1717 Member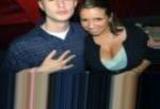 LOCAL SINGLE OF YOUR DREAM IS ONLINE!
A college man with a desire for wild sexual encounters
I am about 5'11", 150 lbs. I am a vendor for kelloggs with I am working on a sport management degree. This picture of me is with a friend at this club on saturday, it's kind of bad but it's the only one I have right now.