A 10's cook82 Member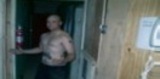 LOCAL SINGLE OF YOUR DREAM IS ONLINE!
single soldier looking for fun
well i have 15 tats, i'm fun to hang out with. love to joke and to laugh. don't get angry and no how to be romantic and kind. i am not a player, pimp, woman user, or anything else you could lable a looser. i do drive but not right now. i rapped my car around a tree a month ago and waiting to get another one. i am in the military. if you like what you see then come and find out how to get it.