A 10's Uwanaplaytu Member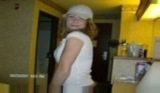 LOCAL SINGLE OF YOUR DREAM IS ONLINE!
Go to the ABOUT ME section of my profile, it says it all....
I am looking to have FUN!! I am no longer with the lying cheat in the picture! So if you can tell,deal with and handle the truth lets play! I am not looking for nor do I want to find a relationship other than friends, I intend on having a fu*[email protected] blast for the rest of my life!