A 10's infamous013 Member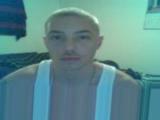 LOCAL SINGLE OF YOUR DREAM IS ONLINE!
what's up ladies?
i got a good sense of humor n am a good friend to have. really honest n straightforward type who expresses my feelings n opinions freely. i'm 24 years old, work full time, n like to party or sometimes just kick back n relax in my free time. i'm really not a hard person to please or get along with. my main love in my life is my music, and it's something i just can't live without. only basic memember can't send emails or contact people back. find me on a messenger elsewhere, same screenname if ur interested.