A 10's Strmlver Member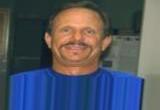 LOCAL SINGLE OF YOUR DREAM IS ONLINE!
Good looking,a mans man.A David Soul/Steve McQueen/Clint Eastwood mix.No Pretty Boy here!
Light brown hair,180lbs.,6'tall.Fairly muscular,well-toned and tan.I work out on my personal home gym regularly.I enjoy talking(to a fault!)w/sexual inuendo laced into the coversation.NO crude,rude or obviously gross language or behavior.But that is all subjective isn't it?HA HA!If you're really,truly interested mail me at rj3rd at cox.net.