A 10's toshiba2012 Member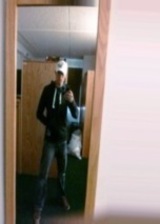 LOCAL SINGLE OF YOUR DREAM IS ONLINE!
so this is me extremely bored and curious as to if this shit really works lol
so i'm white about 5'10" and 155lbs so that puts me a bit on the skinny side, but i do try to work out atleast 2 times a week. i like to play bored games, video games, sports, swimming, and hiking/camping. i don't really know what else to say so feel free to ask w/e u can think of.